EVERYTHING YOU LOVE ABOUT JUNK FOOD WITHOUT THE JUNK!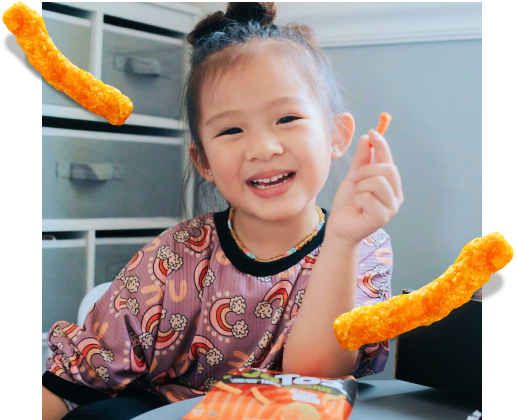 THE WAY WE SEE IT...
For years, snack food lovers have had two choices - if it tasted good, then it's gotta be "junk", and if it's good for you, well it's gonna taste like cardboard! At PeaTos®, we knew there had to be a better way. So we developed the world's first "junk food" style chips without the junk - a salty chips, inspired by our favorite junk food chips from yesterday. The good ones like we ate growing up. The ones we wish we could still eat with today.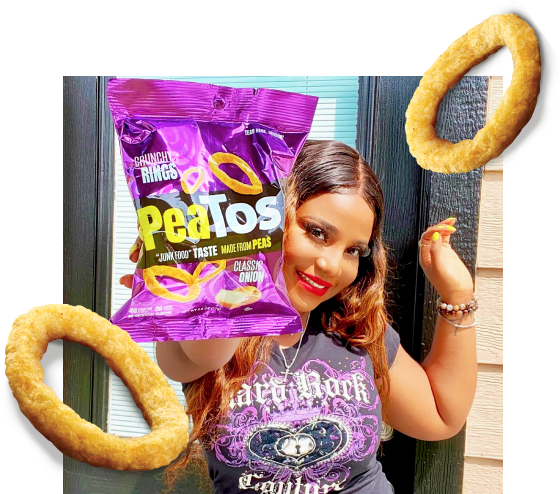 NO FADS, NO GIMMICKS...
And no miraculous diet claims. Just a "junk food" style snacks with all the crunchy, tasty, finger-licking awesomeness you love! We have replaced the old school base of corn (along with all of the artificial ingredients that those other guys use) with a powerful base of peas (and other clean ingredients) to deliver a deliciously familiar snack experience along with the benefit of 2x the protein and 3x the fiber and nothing artificial!
PEA

TOS VS THE OTHER GUYS IT'S NOT EVEN CLOSE
CLASSIC CHEESE
CRUNCHY CURLS
CLASSIC ONION
CRUNCHY RINGS
NACHO CHEESE
CRUNCHY
CHIPS
*Comparisons and claims are based on a standard 1oz (28g) serving size.
*CHEETOS, FUNYUNS, & DORITOS are trademarks of Frito-Lay North America, Inc.
ALL OF THE TASTE NONE OF THE JUNK
NO
ARTIFICIAL
FLAVORS

NO
SYNTHETIC
COLORS

NO
GMO
COLORS

gullten
Free*

No
ADDed
MSG
BIG TASTE. HIGH PRAISE.





"I am obsessed! Since my first order, I have put in 3 more. And have gotten my coworkers addicted too!! These are incredible."
Britney Hope Beverton, Oregon





"Once you eat PeaTos, you can never create Cheetos...the onion is better than a funion and the spicy onion is really tasty. So worth it."
Johanna Nunez Queens, New York





"These are my new obsession. the crunch and texture are perfect! The flavors are great as well. My favorites were the spicy curls and classic onion! 10/10 will buy again!"
Emily Graves Vero Beach, Florida





"I am obsessed! Since my first order, I have put in 3 more. And have gotten my coworkers addicted too!! These are incredible."
Britney Hope Beverton, Oregon





"Once you eat PeaTos, you can never create Cheetos...the onion is better than a funion and the spicy onion is really tasty. So worth it."
Johanna Nunez Queens, New York





"These are my new obsession. the crunch and texture are perfect! The flavors are great as well. My favorites were the spicy curls and classic onion! 10/10 will buy again!"
Emily Graves Vero Beach, Florida